Grouser Bars & Ice Lugs across The Alberta Region
The purpose of a grouser is to increase the traction of heavy-tracked equipment in wet or snowy conditions. And, ice lugs are short sections of grouser bars that enhance efficiency and ensure safety while pushing or pulling on frozen grass. Though these grouser bars seem like a small piece of product, getting the best out of them is necessary. The grouser products made by Dura Tuff are ideal for this purpose. Our weld-ready grouser components are the strongest and most advanced in the industry.
You can easily get our services throughout the Alberta area. Make a call at 855-914-1914 today to contact our experienced team. You can either visit the link here for online communication.
Top Quality Grouser Products Offered by Dura Tuff
Thousands of dollars might be saved by upgrading your heavy machinery with the Dura Tuff grouser solution. We export several kinds of grouser bars to over 25 countries. We have a great reputation for superior service in the market because we never sacrifice quality, and our loyal client base consistently provides us with excellent reviews. Since our founding in 1886, we have provided nothing but first-rate service to our customers. Once you purchase from us, it usually takes 24 to 48 hours to arrive.
Dura Tuff ensures the quality of each of our products. We provide: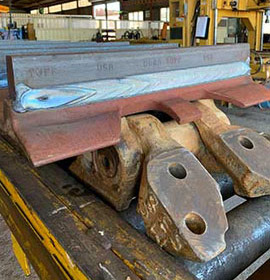 Grouser Bars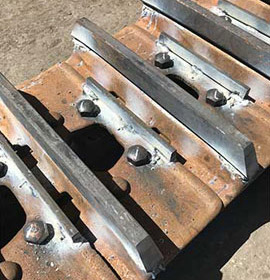 Trailing Edge Bars
WHY CHOOSE DURA-TUFF?
Made in USA Worn Worldwide

Duratuff of Salt Lake City, UT has been making products that stand up to the most abrasive environments on the planet with a presence in more than twenty-five countries worldwide. America has a rich industrial heritage and a proud tradition of steel working. We are passionate for making the best, most durable, and innovative grouser products in the world.
What's the Advantage?
In many abrasive environments, the grouser wears down at a disproportionate rate to the rest of the undercarriage, making the concept of regrousering a cost-effective way to approach undercarriage maintenance. 
Regrousering can significantly prolong the life of the track group and save thousands of dollars over the life of the undercarriage
Add Dura Tuff's Grouser Products to Your Construction Equipment for a Superior Grip
Dura Tuff has been in business for many years, so they understand what customers want and need when it comes to their automobiles. Because of our extensive experience, you can confidently make us your go-to source for grouser bars. If you're in need of grouser bars in Alberta, give us a call at 855-914-1914. Our expert team ensures that you receive only the highest quality products for your vehicle.